Sympatec Particle Size Analyzer for Coffee
Know the particle size and shape of your coffee grounds for a perfect coffee taste
The reality
Across the world there are about 40 different known varieties of coffee beans which, in various blends and degrees of roasting, determine flavour, taste and brewing behaviour of the hot speciality. In addition to the selection of the green coffee, roast and blend, the grinding degree of the coffee powder is crucial for coffee preparation. If, for instance, you are preparing an espresso or Turkish coffee, a very fine grind with grain sizes below 1 mm is required; for common drip brewed and filtered coffee particle size is below 1.5 mm and for Scandinavian, French press or American brewed coffee it is just below 3 mm.
Inspired by capsule technology, the coffee industry is constantly bringing new types of coffee onto the market that continue to stimulate consumption. This increases the requirements for quality control, particularly with respect to the size distribution of coffee powder. Another challenge is the strong internationalisation of coffee producers, which makes comparability of analyses at different locations necessary. Industrial grinding of coffee and frequent changes in variety require a continuous, partially automated control of the particle size distribution to ensure consistent product quality.
The solution
Particle size & size distribution analysis
Along with traditional sieving, laser diffraction is the most common method used for determining particle size distribution in coffee processing. Laser diffraction, in combination with RODOS dry dispersing, demonstrates its strengths in the quick and precise grain size analysis with HELOS in the laboratory as well as with MYTOS in the process.
The high sample throughput in RODOS dispersion means it is also possible to measure larger sample quantities of up to 100 g. This ensures high statistical significance and unrivalled repeatability and comparability of measurement results – including at different production sites. The fast measuring cycle and simple, automatic cleaning of the measuring section allow for up to 60 measurements per hour.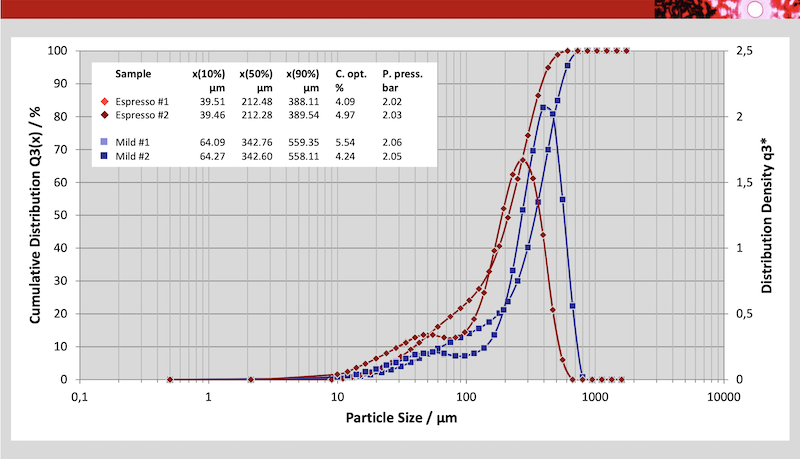 Measurement results Espresso and Mild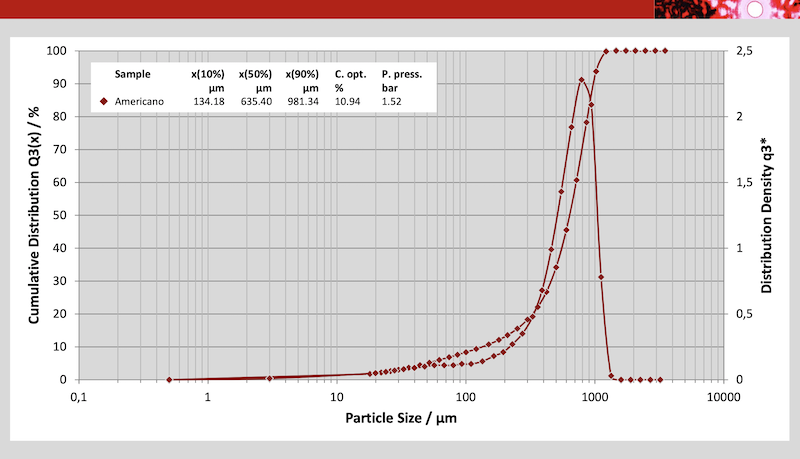 Measurement results Americano
Particle size & shape analysis
The analysis of the particle shape also plays a key role in particle size analysis for the product development of coffee and for the development of coffee grinders and grinding machines. Dynamic image analysis with QICPIC and dry disperser RODOS records around 1 million particles within one minute and thus provides excellent statistical reliability of the measurement results. Powerful evaluation modes for size and shape, as well as various definable selection and filter criteria support the identification of certain fractions within a sample. In addition to the quantitative evaluation and representation in distribution diagrams, a particle gallery and the particle video recording are also available for qualitative analyses.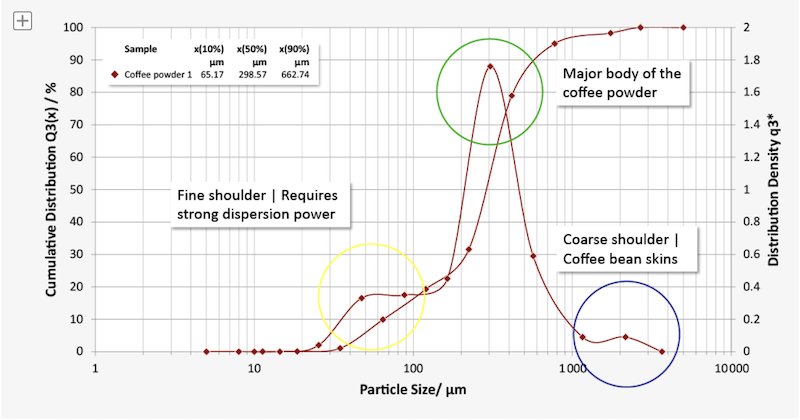 Grain size distribution of a coffee sample for identifying different fractions
The benefits
Pure coffee of the highest quality

Optimal production within specifications

Precise and rapid control of particle size for consistent product quality

Simple exchange of results between different locations

Quick amortisation when eliminating screening
Source:
https://www.sympatec.com/en/applications/coffee-particle-size-analysis/