Trend of laboratory design in 2021
The pandemic Covid-19 requires laboratories worldwide to continually introduce new technology. The design of a modern laboratory so that continually changed accordingly.
Team-based Lab
Laboratories should have casework and engineering services that can easily be changed to support each research team. This concept of laboratory design has been accelerated by younger scientists coming from more contemporary academic models where students solve problems in team environments. In this new work model, researchers share not only the space itself, but also equipments, bench space, and support staffs. This open lab concept facilitates communication between scientists and makes the lab more easily adaptable for future needs.
As a laboratory designer, AdvanceLab supports collaborative research by:
Creating flexible engineering systems and casework that encourage research teams to alter their spaces to meet their needs

Designing offices and write-up areas as places where people can work in teams

Creating all the space necessary for research team members to operate properly near each other

Minimizing or eliminating spaces that are identified with a particular department

Establishing clearly defined circulation patterns

Provide interior glazing to allow people to see one another.
Flexibility design
The changing nature of work in laboratories makes it necessary to have a facility that adapts to change. This is especially true because of the continuing advancement and addition of new instruments, equipment, and robotics in lab environments. As a result, more and more companies are purchasing laboratory furniture that allows their research laboratory teams to transform their spaces to meet their changing needs. That's never been more true in 2021 as more laboratories are taking on applications that involve Covid-19 testing and vaccine manufacturing.
Engineering systems
Flexible engineering services likes supply and exhaust air, water, electricity, voice/data, vacuum systems are extremely important to most labs. Labs must have easy connects/disconnects at the walls and ceiling to allow for fast, affordable hookups of equipment. The engineering systems may need to be designed to enable fume hoods to be removed or added, to allow the space to be changed from a lab environment to an office and then back again, or to allow maintenance of the controls outside the lab.
Mobile caseworks
Another lab design trend today focuses on modular mobile laboratory furniture. According to the National Institute of Building Science, one company designed its lab so that "research teams were able to create over 60 different custom laboratory configurations" as soon as they moved in. Some companies are making it easier to move lab technicians, by providing them with mobile drawer pedestals to keep all of their tools and materials. When the technician needs to move to a new work area, they simply bring their set of drawers with them.  The same is being done with mobile storage carts for computers and equipment.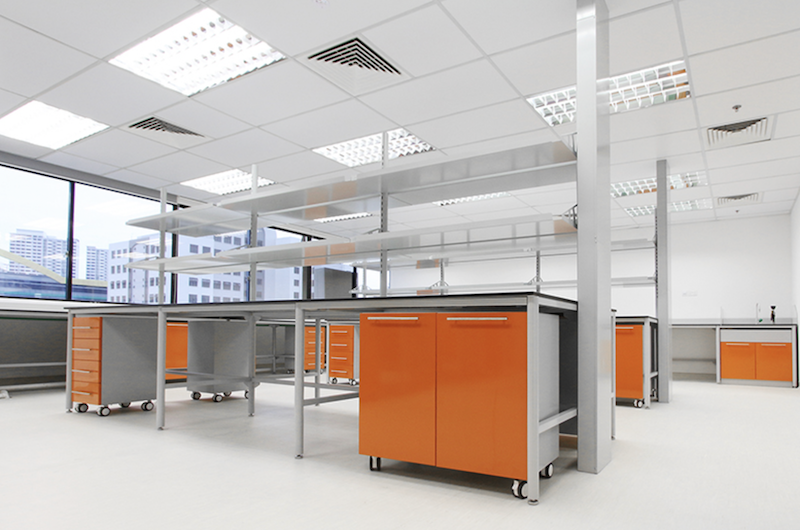 Using the full volume of Lab space
Overhead cabinets allow for storage above the bench, making good use of the volume of a space. Flexibility can also be addressed with adjustable shelving instead of cabinets. Adjustable shelving allows the researcher to use the number of shelves required, at the height and spacing necessary. If tall equipment is set on the bench, the shelving can be taken down to allow space for the equipment. The bottom shelf should be 19–20 in. above the benchtop and should stop 18 in. below the ceiling to permit appropriate coverage by the sprinkler system.

Typically, the more flexibility built into a lab building, the more it costs upfront. However, this built-in flexibility offers cost savings over time. Because companies have discovered that it is far more cost-effective to move staff around using in-house maintenance and facilities people, rather than contractors to accomplish frequent space reconfigurations.
Sustainability
A typical laboratory currently uses five times as much energy and water per square foot as a typical office building. Research laboratories are so energy-demanding for a variety of reasons:
They contain large numbers of containment and exhaust devices

They house a great deal of heat-generating equipment

Scientists require 24-hour access

Irreplaceable experiments require fail-safe redundant backup systems and uninterrupted power supply (UPS) or emergency power
In addition, research facilities have intensive ventilation requirements including "once through" air and must meet other health and safety codes, which add to energy use. Examining energy and water requirements from a holistic perspective, however, can identify significant opportunities for improving efficiencies while meeting or exceeding health and safety standards. Sustainable design of lab environments should also improve productivity.
Meeting places
Last but not least, a critical consideration in designing such an environment is to establish places such as break rooms, meeting rooms, atrium spaces where people can congregate outside their labs to talk with one another. Even stairways, fire stairs, or stairs off an atrium with built-in window seats can provide opportunities for people to meet and exchange ideas. Designers must look for opportunities for such uses in public spaces, making optimal use of every square foot of the building.
Contact us if you are interested in or finding a laboratory design and build contractor [email protected] or 028 6656 0610